Barnum High School Graduation
Click the thumbnails to view the bigger pictures.


Science Club





Senior Class Play



Newspaper Clippings - Poor Quality - They are all I have.





We lived 3 miles east of Barnum on the Old Military Road. Dad owned 80 acres that covered both sides running from the Pete Olson road to the next intersection at Morky's Road (about a half mile). You are looking at his land going east from the Pete Olson Road. The house which was bought and moved by Wayne Skoglund sat just over the hill on the left. The interior of the house was paneled in Knotty Pine just like the background of this page.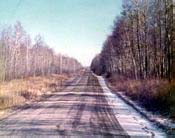 Dad's old place as it looked in June 2004:


Back then, Dad had a John Deere 1936B tractor. I do not have any pictures of his tractor, but found these on the internet. I do not know the person in the picture.




Copyright © 2001 - 2005 Great Uncle Bill