The Erickson's

Click the thumbnails to see the bigger pictures. Give the pictures time to load.

An oil painting of the old Erickson ''Farmstead'' where most of the children were born and raised.
View this picture as a lake applet HERE.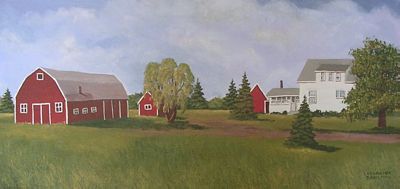 Alfred Erickson and Alice Borg's wedding picture circa 1910




Alfred and Alice with children circa 1929. L to R girls: Olga, Hilda, Dora. Laura is sitting on Alice's lap. Boys top to bottom: Bertil, Erick, Wilbert.




Alfred on the right along with his three brother's John, Erick and David.




Alfred and Alice in front of the farm house.




Alfred next to his apple tree.




The children with their spouses in 1979 at Bertil and Esther's 40th anniversary. L to R: Laura (Larson) and Uno, Hilda and George (Larson), Dora and Woodrow (Krueger), Wilbert and Mary (Erickson), Olga and Harold (Lind), Bertil and Esther (Erickson), Erick and Frances (Erickson).




The younger generation at the same reunion
L to R: Front Row: Nicole Erickson, Bernie's daughter Rachel, Neil Erickson Row 2: David and Cheryl Larson, Allan and Cheryl Preston, Bernie Wojtysiak holding Dale Erickson, Wendy Tran, Thea Erickson Row 3: Bill Erickson, Denise and Neil Erickson and Bernie's Husband Al.








Copyright © 2001 - 2005 Great Uncle Bill